Sports from the Left…
Author:  Dave Zirin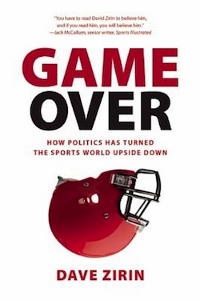 As political discourse in the US has grown increasingly strident, it's not surprising that political conflicts have begun to overflow into the world of sports, a previously pristine planet, devoid of any Red or Blue state animosity.  Over the past decade, no one has kept their finger on the pulse of this evolving sports-politics interface more than Dave Zirin.   Frequently writing for The Nation, The Progressive, SLAM Magazine, SI.com and appearing regularly on radio and television, he often promotes the idea that athletes can play a significant role in beneficial societal and political change.  In Game Over, Zirin compiles nine essays covering some of the most important issues affecting sports over the past few years.
Dissecting topics with a sharp wit and unafraid to let his liberal perspective show, Zirin writes eloquently about sexuality and racism without pulling any punches.   His take on individuals like Caster Semenya, Michael Vick and Jeremy Lin presents a perspective that I hadn't considered before.  He also includes a chapter on the Phoenix Suns and their organized – from the front office to the basketball court – opposition to Arizona's anti-immigration legislation.
But Zirin saves his finest vitriol for those running the show:  NFL and NBA owners, baseball commissioner Bud Selig and the NCAA.   His discussion of labor relations within the professional sports as well as public subsidies of private stadiums provides plenty of ammunition for anyone looking to debate the latest owner or administration led scams.  He also includes a chapter that explores Joe Paterno's legacy and the way the Penn State atrocities serve as a cautionary tale for big time college athletics across the country.
Lastly, the author includes two international topics, one chapter describes how Egyptian soccer fanatics played a pivotal role in the "Arab Spring" demonstrations and another sheds light on the financial wreckage left behind by major events like the Olympics and World Cup.
As I read his work, I'm repeatedly impressed by the balance between Zirin's vibrant sports fanaticism and his unimpeachable liberal credentials.  He writes about both dimensions with such skill that he makes it look easy, frequently bringing forth the passion and emotion that are part of the reason why sports feature so prominently in our modern society.
I'm really not much of a sports nut, but you don't have to be to enjoy reading Dave Zirin.  Anyone who is interested in the most hotly contested social issues of the day will find something memorable in Game Over, a well written argument for increasing the contact between the worlds of sports and politics.
— D. Driftless
photo by Erik van Leeuwen
[AMAZONPRODUCTS asin="1595588159″]