Exploring the Neighborhood…
Author:  Dava Sobel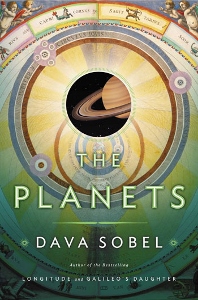 It's a critical period in the early development of any aspiring young science geek.  Sharing neural space with dinosaur taxonomy, the details of the solar system represent some of the basic building blocks for future geeky success.  Exotically named, each with their own personality, the planets and their numerous enigmatic satellites were a frequent focus of my youthful scientific forays.  In The Planets, science journalist Dava Sobel travels some of this well-trodden ground with her unique flare and imagination.
In 1995, Sobel was a key player in the modern transformation of science writing with her best-selling and award winning book Longitude.  She followed that up with the even bolder Galileo's Daughter, which garnered similar acclaim.  Both books are favorites of mine so I was excited to come across this more recent work, although I was somewhat skeptical.  Even someone with Sobel's considerable literary talents might struggle to explore the entire solar system in just over 200 pages.
In ten chapters, each one devoted to a different planet, the author weaves together colorful strands of history, astrology and modern astronomy into an entertaining whole.   Old former planets, like the Sun and Moon get their own chapters, as does the latest former planet, Pluto, which shares some space with its new dwarf planet brethren.  The other planets, including Earth, get their due with detailed descriptions of their idiosyncrasies and much of the science involved in deciphering them.   The highlight for me was the chapter on the "Ice Giants" which includes a fictionalized letter from Caroline Herschel, the sister and assistant of William Herschel, discoverer of Uranus in 1781.  An accomplished scientist in her own right, Ms. Herschel continued her astronomical activities into old age, living to hear news of Neptune's eventual discovery in 1846.
Although Sobel occasionally wades a bit too deep into astrology for my taste, she truly excels at combining shrewd scientific writing with the aesthetic
sensibilities of a poet, reminding me of Diane Ackerman.  This is best exemplified by the Mars chapter, which is an imaginative twenty page memoir of a 4.5 billion year old Martian meteorite, found in 1984 near Earth's South Pole.
In the end, The Planets is an entertaining trip through Earth's neighborhood that clearly displays Sobel's singular literary skills.  While not as ground breaking as her previous work, I can still recommend it highly for anyone interested in revisiting the numerous and varied other worlds that once proved so tantalizing.  There's still plenty of magic out there.
— D. Driftless
planet photo by Voyager II