Words and Wrangling…
Author:  Christopher Hitchens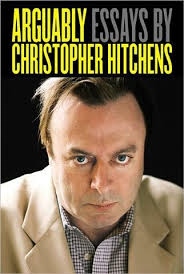 Political essay writing has become a bit of a lost art.  As discourse has become more divisive over the past decade, writers tend to smugly wear their political party affiliation on their sleeve, choosing the requisite side of an issue despite the actual facts of the matter.  Hypocrisy reigns.  But then there's Christopher Hitchens, who – until his passing in 2011 – always seemed to revel in provoking those on any side of an issue, consistently standing alone, loaded with facts, wit, passion and a computer keyboard set on stun.  He devoted much of his life to doggedly – and often dangerously – rooting out injustice with a seemingly unstoppable compulsion to write and write some more.  Shortly before his death, he published Arguably, a massive compilation of his essays over the past decade.  It's really an amazing thing to behold.
If Hitchens' middle initial was P, it would have stood for prolific.  There was little that the man didn't have an opinion about and he wrote about it all, right up until his death from esophageal cancer.  This book – weighing in at shocking 1232 pages – is an impressive sampling from much of his oeuvre, comprising book reviews, book introductions and essays from numerous periodicals like The Atlantic, Vanity Fair and Slate to name a few.  The 107 included works are divided into six roughly hewn categories:  American History, Literary Criticism, Foreign Policy, Totalitarianism, Words and a grab bag labeled Amusements, Annoyances and Disappointments.  Given the sheer volume of material and the wide array of subjects – from Pakistan's late Prime Minister Benazir Bhutto to author Stieg Larsson – it's safe to say that there's a topic for almost everyone.
Whether he's ridiculing Prince Charles' criticism of Galileo, updating the Ten Commandments, reviewing Isabel Allende's novels or revealing the history of the King James Bible, Hitchens displays an incredible depth of knowledge about so many things.  While it's fair to say that he hailed from the far left end of the political spectrum, the man was never easy to pigeonhole, particularly after he vocally supported George W. Bush's war in Iraq.  His atheist (or more correctly anti-theist) views have frequently served as a lightning rod for criticism, but only a small percentage of the included works touch on religion, although he's always happy to skewer a fool – royal or otherwise.
I had the good fortune to read this book on my Kindle and found myself frequently using the embedded dictionary as I waded through some of Hitchens' weightier or esoteric prose, which shows off his fine Oxford education.  Likewise, my link to Wikipedia was utilized often to help me sort out references that were obscure to me.  While these facts might be viewed in a negative light in some contexts, I actually feel that in this case the opposite is true, as I've rarely found a writer who's able to more fully expose my ignorance of so much of the world.  Of course, this can be a rather humbling reading experience at times, but in the end I find it motivating.  Whether it's looking up words like droit or palimpsest or figuring out who Khalil Gibran was, I find Hitchens' writing to be unique in its ability to inspire me to find out more about a topic.
While this collection of Hitchens' works certainly won't appeal to everyone and I frequently found myself swimming in waters that were way too deep for me – particularly in the literary criticism section – I can heartily recommend Arguably for any fans of this divisive and curmudgeonly brilliant writer.  Even admirers like me may not want to read everything the man wrote, but I'm sure that I got my ten dollars' worth many times over.
— D. Driftless
Oxford photo by Tom Page
Dave's reviews of other Hitchen's books:  Mortality   /   Thomas Jefferson
[AMAZONPRODUCTS asin="B004QZ9PLK"]