Projectile Poetry…
Author:  Billy Collins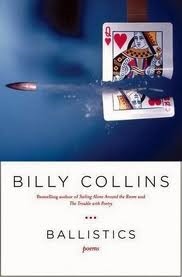 When he published Ballistics in 2008, Billy Collins had already been in the poetry business for four decades, written several best-sellers, won numerous awards and served as US Poet Laureate from 2001-2003.  He didn't have anything to prove.  But while lesser mortals slowly watch their powers dwindle as they enter their senior years, Collins seems to be getting better with age and the 55 poems in this collection provide all the necessary evidence.
I've enjoyed Collins' work in the past – The Art of Drowning (1995) and Horoscopes for the Dead (2011) – and this collection is just as good.  Deceptive in their simplicity and accessibility, the poems repeatedly display his ability to bring forth profound views of life and death, using the most mundane objects.   Whether it's an ant crawling around the rim of a china bowl or a turtle on a log, Collins sheds light on human existence with remarkable concision.
Highlights include "Tension" where our protagonist watches as his companion "suddenly opened a can of cat food" and "The Effort" in which Mrs. Parker helps her English class at Springfield High interpret poetry before that "orgy of egg salad and tuna fish known as lunch".   His inimitable combination of wit, sobriety and raunchiness is consistently entertaining.   It wasn't until I read "The Mortal Coil" that I had ever even considered the aphrodisiacal qualities of Marcel Proust.
Collins is remarkable in the way he brings you right into the room with him, pausing occasionally to make sure you're still following his line of reasoning.  Watching him do all this with just a few lines of text often provides quite a thrill.  It reminds me of when a great film actor will subtly break down the fourth wall and look directly at the audience, somehow making the experience more intimate and personal.
Living up to his billing as "America's favorite poet", Billy Collins hits the bull's-eye once again with Ballistics.    An entertaining collection that I can strongly recommend for fans of his other work as well as for any readers who have yet to experience his unique style.  Even if you think you don't like poetry – or would rather be watching Survivor reruns – Collins is worth a try.  You can easily read a poem during the ads, with plenty of time left to run to the pantry for more cheese puffs.
— D. Driftless
poet photo by Suzannah Gilman
[AMAZONPRODUCTS asin="1400064910″]