Teen-Age Transcendence…
Author:  Barbara Ehrenreich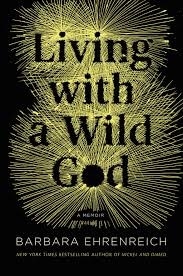 It's an experience that can be described in many different ways, using a surprisingly diverse array of adjectives: transcendental, delusional, dissociative, paranormal, extracorporeal, divine, spiritual, supernatural, miraculous, psychotic or occult.  But despite the many labels, language often fails people when they struggle to define their own "mystical experience", an often emotionally distressing event that seems to create a momentary separation from ordinary space and time.  Fearing the response of their unaffected colleagues, people who are touched by such episodes are often too embarrassed to even try and discuss them, although they may be much more common than one might expect.
One's reaction to such incidents is going to vary considerably, depending on one's cultural background and biases. A priest is going to view things quite differently than a psychiatrist or a Sasquatch hunter.  In Living with a Wild God, after more than four decades as an acclaimed essayist and activist, Barbara Ehrenreich finally tells her own story, revealing some long kept secrets and wielding her considerable literary talents to try to explain them.
Born and raised an unrepentant atheist, educated as a scientist and known for her incisive and perceptive writing, Ehrenreich is not the first person one would expect to venture into the fuzzy realm of the supernatural. But, ever inquisitive, she had some unresolved mysteries to explore.  Despite decades of neglect and numerous cross country moves, she still had an old battered folder of writing from her teen-age years.  Mostly notes to herself – often to herself in the future – she had never taken the time to revisit them, but had always resisted the urge to dispose of them.  However, after surviving breast cancer in her sixties and facing her mortality for the first time, she realized that she had an obligation to face the many big questions she had left unanswered in her youth.
Some of them were the deepest of all questions, like "Why are we here?" and "What is actually going on here?" Questions that many might dismiss as a waste of time, but when they come from the pen of bright, earnest and sober teen-ager in the 1950s they take on a more pressing urgency.  Growing up with an alcoholic father and depressed mother and moving every year or two, Ehrenreich had a childhood of solitude that lent itself to quiet contemplation of the nature of reality.  Maybe inevitably, given her unstable environment, her almost stoic personality and her willingness to read everything, she embraced solipsism – the philosophy that the only thing one can actually be sure of is your own existence – and proceeded to build her life around this idea.
The present day author – now a senior citizen and mother of two – takes these remarkably mature and coherent philosophical snippets from her teen years and subjects them to a detailed forensic analysis, trying to tease out the reality that lies between the lines. She then uses this line of inquiry to try and make sense of one strange moment in 17 year-old Barbara's life, a transcendent episode that made her question the very foundations of reality, following a ski trip in eastern California.  Always the scientist, she dissects this event from every conceivable angle, while still staying true to her non-believer roots.
While Ehrenreich focuses on the big questions, she doesn't really provide any big answers. But she makes a strong argument for exploring these topics, even if they are unanswerable.  The book is full of great thinking and equally impressive writing.  I found that her remarkably penetrating and level-headed analysis of the unavoidably ambiguous topic of dissociative or supernatural experiences made for fully thought-provoking and intriguing reading.  The book also works well as a memoir, quietly revealing the development and evolution of one of the sharpest essayists working today.
Exhibiting the insightful wit and razor-sharp analysis that has made her such a widely read writer, Living with a Wild God succeeds on many levels and is sure to please fans of Ehrenreich's previous work.  Her brave foray into territory that most rationalists, atheists and non-believers tend to shy away from is a uniquely personal and discerning work that I can recommend to anyone who enjoys superior writing.
— D. Driftless
Other philosophical Readers Lane book reviews: