Cruel lessons…
Author:  Andy Hall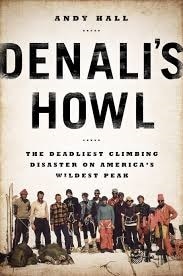 When you think of college kids in 1967, you might think of long haired hippies, Vietnam protests and psychedelic drugs.  But Joe Wilcox, a graduate student at Brigham Young University, had other plans that summer.  He dreamed of climbing Mt McKinley.  So he rounded up some like-minded individuals, scrounged together a lot of grub and gear, gassed up a squadron of rickety vehicles and headed north to Alaska.   Little did he know that he and his eleven newly-acquainted teammates were headed into one of the worst mountaineering disasters of all time.  Although he was only five years old at the time, Andy Hall was there – his dad was the superintendent of Denali National Park – and he tells the saga many years later in Denali's Howl.
Although its summit is only some 20,000 feet above sea level – compared to Mt Everest at almost 9,000 feet higher – Mt McKinley is one of the most dangerous climbs in the world, due to its relatively high latitude and its reputation for nasty weather.  Given its accessibility, its spectacular prominence on the landscape and the fact that it's the highest point in North America, the peak has been an obvious attraction for mountain climbers for decades, particularly thrill-seeking college students who are looking for big adventure on a budget.  But in the 1960s, in the early days of American amateur mountaineering, the hazards of the big mountain were not fully appreciated.  That all changed in 1967.
Gathering copious details from official National Park records, diaries from expedition members and interviews with many of the participants, Hall – a former editor of Alaska magazine – creates a thoroughly engaging chronicle.  His storytelling skills are up to the task and his vivid descriptions of the many formidable obstacles the climbers faced are chilling indeed.  Hall also includes many of his own youthful memories from that summer, which adds a unique twist that you don't see in most adventure sagas.  In addition, he spends much of the book trying to decipher what went so wrong, analyzing events from medical, meteorological and psychological perspectives.
Sure to please anyone who enjoys real-life adventure stories, Denali's Howl is a gripping account of one of the deadliest mountain climbing disasters since the invention of the crampon.  But let me provide a friendly warning.  With temperatures well below zero and winds over 100mph, you'll want some reading mittens, a roaring fire in the fireplace and a couple of extra blankets for this one.
— D. Driftless
Other Readers Lane reviews on ice:
Into the Silence   /   Alone on the Ice   /   In the Kingdom of Ice   /   The Last Viking
[AMAZONPRODUCTS asin="0525954066″]