Supernatural Sleuthing
Author: T.J. O'Connor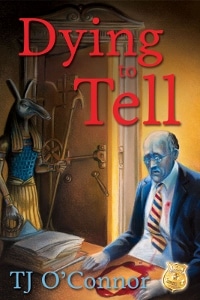 You know, it isn't easy to investigate when you're dead.  Or at least that's what I've learned from Ghost Detective Oliver Tucker.  You see, Tuck died about 5 pages into the first book in his series – The Gumshoe Ghost Mysteries penned by T.J. O'Connor.  It's been awhile since he's been practicing his trade from the beyond now, as we enter the third book in the series – Dying to Tell.
Dying to Tell finds Tuck in a familiar place – a dead guy with a live wife who can see him and hear him but not touch him.  Same for his best friend Bear.  Not that he wants to touch Bear that much, but it's a pain to be not living.  This outing sees Tuck and his wife Angel get embroiled in the death of a very wealth bank owner.  Suspects abound and the mystery goes far beyond the bank, and far beyond the present day.
As in the first book – Dying to Know – Tuck has contact with a dead relative or two as he makes his way through clues and delves into secrets long buried.  His death has afforded him a few skills that help link the past with his current case, but are annoyingly vague in both content and intent.  Same goes for those dead relatives.  This particular outing finds us focusing on both the murder of banker William Mendelsohn, as well as the difficulties in maintaining a healthy marriage after one of the parties becomes a ghost.
It became clear to me early on that I had missed a book in between the first book and this outing.  While not a complete disaster, O'Connor does have some trouble making this book stand on its own while also linking it to its predecessors.  Of all the skills the cozy mystery series writer must have, this one has to be the hardest.  I stumbled around a little without the information from the second book (Dying for the Past
), so you might want to read this series in order.
The mystery is a little lackluster.  It was hard to invest for the first 2/3 of the book because either the clues were too cryptic or the characters too unlikable.  I didn't care too much who did it because I didn't like any of them.
Tuck also got on my nerves in the first 2/3.  Yeah, he's in a tough spot with the whole wife thing, but he's doesn't handle it with any sort of grace or generosity and his wisecracks annoyed me as much as they annoyed Angel.  Both the mystery and the relationship between Tuck and Angel come around in that final 1/3, though, as O'Connor brings everything together and gives the relationship between Tuck and Angel a much needed change.
Dying to Tell is a little slow through the first 2/3 and picks up for the end, which makes it a little bit of a chore to get through.  But overall the writing is solid and you simply have to trust that O'Connor does have some interesting resolutions in store for you.  3 stars out of 5 and a recommendation that if you plan to read this series, you take it in order.
-S. Millinocket
My thanks to MaryGlenn McCombs for sending me a review copy of Dying to Tell
[AMAZONPRODUCTS asin="B019G00BPI"]

Latest posts by Sue Millinocket
(see all)