Fiction Inspired By Alaska's Great Earthquake of 1964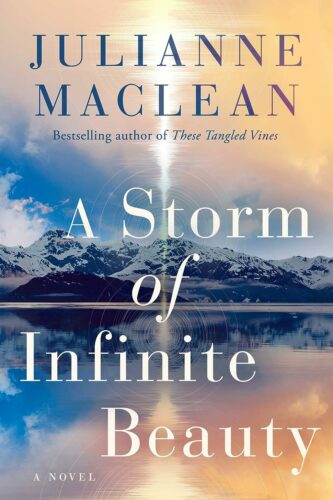 Author: Julianne MacLean
What really goes on in the lives of Hollywood royalty? In A Storm of Infinite Beauty, Julianne MacLean goes behind the curtain, into the life of legendary actress and singer Scarlett Fontaine. The story she weaves is one of mysteries and secrets, love and loss, and the very human side of those who seem larger than life.
MacLean tells her story in two time periods. Gwen is the main protagonist in the present, heir to Scarlett's fortune and curator of her museum and legacy. As invested as she is in Scarlett's life, there are things she doesn't know. When a former paparazzo turned author arrives with a tantalizing clue to a major secret in the star's life, Gwen is drawn into the search for the truth.
In the past, we meet young Valerie McCarthy. She is being sent to Alaska by her harsh and unforgiving father. Her experiences there will shape the rest of her life.
MacLean winds the fictional mystery of Valerie and Scarlett around the very real earthquake that struck Valdez, Alaska, in 1964. While the quake itself is but a small part of the overall story, its impact on the characters is profound. The descriptions of Alaska's glories and dangers give the novel a nice sense of place.
A Storm of Infinite Beauty is a novel that weaves the heady theme of life after loss into its mystery and the lives of its characters. As Gwen picks through the new details she learns about Scarlett she's also trying to pick up the pieces of her own life.
There are some predictable elements, including a romance, but they generally take a back seat and help pull together the loose threads connecting the two time periods and the two women at the center of the story. MacLean does an excellent job jumping between the 1960s and the present without losing her readers.
Overall, A Storm of Infinite Beauty is a well-paced story with enough twists to keep you turning the pages while retaining its focus on the intertwined lives of a legend and her heir. You'll learn about a natural disaster you probably never heard of and meet some people, past and present, doing their best with the hands they're dealt.

Latest posts by Sue Millinocket
(see all)