Peter the Greatest…
Author:  Peter Sagan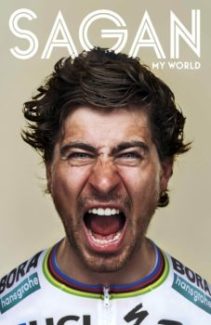 He may not be the world's fastest sprinter.   He may not ascend the Alpine cols with the most alacrity.  He may never even come close to winning the Tour de France.  But there are few who will argue that there is a greater – or more entertaining – cyclist on the planet than a 29 year-old man named Peter Sagan.  And over a span of three years, he had the opportunity to prove it, winning three consecutive road cycling World Championships, a feat that has never been accomplished in the 90 years that the race has been in existence.  In My World he tells his unique story with the same kind of enthusiasm and wackiness that he so frequently displays on his bicycle.
Ably assisted by co-writer John Deering, Sagan organizes the book around his three World Championship titles, taking place three falls in a row in 2015, 2016 and 2017 in Richmond, Virginia; Doha, Qatar; and Bergen, Norway respectively.  Sprinkled in between his accounts of these triumphs, he includes many of the details of his remarkable life, including his childhood in Slovakia, his early days as a competitive cyclist and his subsequent marriage and fatherhood.
Appropriately, most of the book focuses on his numerous achievements on two wheels over the past several years.  From his complete domination of the green jersey competition at the Tour to his victories in monuments like Flanders and Paris-Roubaix, Sagan's accounts are consistently riveting and exciting, revealing plenty of details that never make it on the television screen.   Along the way he repeatedly emphasizes the important role his family, teammates, managers, agents and support staff have played in his rise to the top.  He also includes some of his own personal sprinting pearls, revealing some of the secrets to his frequent successes.
But the road to greatness hasn't been without a few bumps and potholes along the way and Sagan airs out some of his dirty laundry with candor.  He relates many of the details of his contentious relationship with team owner Oleg Tinkoff and provides his own analysis of the Cavendish crash in Stage 4 of the 2017 Tour that led to his sudden disqualification from the race.  While the man is still young, he's clearly learned a lot about life in the spotlight and at the top of his field.
It's not always easy to figure out why some athletes achieve enormous popularity while others labor in relative obscurity.  Charisma is the word, but identifying its presence doesn't get us any closer to actually explaining the mysterious substance.  For whatever reason, there's no denying that Sagan has more than his fair share of the stuff.  Revealing plenty of humor and enthusiasm, My World provides at least a partial answer to the mystery, allowing the reader a brief look into one cyclist's tumultuous life.  A must read for anyone who's reveled in the success, grit and passion of one of the peloton's most celebrated heroes.
— D. Driftless
Paris-Roubaix photo by Iggy (CC BY-SA 4.0)/ Tour photo by filip bossuyt (CC BY 2.0)