Darkness personified…
Author:  Bryan Cranston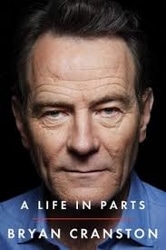 Who's your favorite drug lord?  I haven't actually met any, but if I was forced to pick, the enigmatic Heisenberg would have to be my number one.   Also known as Walter White – Mr. White to his high school chemistry students – he first gained fame on AMC's Breaking Bad, brought to life by actor Bryan Cranston.  Before the show aired, there was general skepticism that Cranston – most famous for playing the inept dad in Malcolm in the Middle – had the acting chops necessary for such a role.  But as subsequent events would reveal, even seemingly ordinary, mild-mannered white guys can harbor a dark side.  Having completed five seasons in the role of a lifetime to great acclaim, Cranston tells his story in A Life in Parts.
As the title implies, the book is composed of dozens of small pieces of Cranston's life.   From his 1960s childhood in the Canoga Park neighborhood in northern Los Angeles to the stage of the Neil Simon Theatre in New York City where he starred as LBJ in 2014, he chronicles the many steps in his development as an actor.  Each autobiographical vignette reveals the building blocks of a career.   The numerous ups and downs and challenges.  The self-doubt.  The fear of failure.  Taken as a whole, the actor has put together a remarkably personal look at the art of acting.
As expected, the book also presents an interesting behind the scenes look at Breaking Bad – as well as details from his smaller stints on Seinfeld and The X-Files – but the book is at its best when Cranston explores his evil side.  Rummaging through the low points in his life, he reveals how he used the dark moments to help him create the menacing Walter White, conveying all the moral ambiguity that made the character such a great anti-hero.
Where does the darkness come from?  More than a just straightforward autobiography, A Life in Parts provides at least one man's plausible answer.  A wide open and entertaining look at Cranston's life, I can recommend it highly for fans of his work.
— D. Driftless
Check out some of Dave's other reviews of acting autobiographies:   So, Anyway (John Cleese)   /   The Bassoon King (Rainn Wilson)
[AMAZONPRODUCTS asin="1476793859″]