Blood for Oil…
Author:  David Grann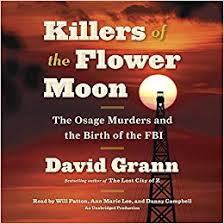 They were the wealthiest people on the planet.  Left to subsist on a small fraction of their original territory in northeastern Oklahoma, the Osage people were recipients of incredible good fortune when vast petroleum reserves were discovered on their land in 1897.  As the millions rolled in, they built mansions, hired servants and sent their children to the finest European schools.  But as the oil was pumped from the ground, Osage County attracted many white Americans, intent on getting their hands on some of this vast wealth.  There were scams aplenty, but it turned truly dangerous when Osage started turning up dead.  Known as the "Reign of Terror", journalist David Grann uncovers the horrific true story in Killers of the Flower Moon.
It all started in 1921, when Mollie Burkhart's 25 year-old sister Anna's decomposing body was found in a ravine with a bullet in the brain.  One by one, more of Mollie's full-blooded Osage family members started turning up dead.  Whether by bullet, poison or explosives, the body count mounted, leaving her increasingly isolated.  She became gradually more worried as her own health began to deteriorate.  Despite the suspicious deaths of as many as 60 wealthy Osage individuals by 1925, law enforcement was largely ineffectual and no suspects were identified nor were any witnesses forthcoming.  The crime spree eventually became national news, finally getting the attention of federal officials in Washington.
Enter J. Edgar Hoover.  The handsome, energetic and incredibly ambitious young man saw this as the perfect opportunity to elevate the status of the Bureau of Investigation – later known as the FBI.  He hired Tom White, a former Texas Ranger, to take over the Osage Indian murders investigation.  By following the money and relying on numerous undercover agents, White was able to slowly piece together the convoluted puzzle, revealing the culprits at the center of this lethal crime ring.  But just because the killers' identities were known didn't mean that an all-white jury would produce a guilty verdict.  Grann tells the story with suspense and style, deftly weaving the birth story of the FBI and Native American history into the riveting criminal narrative.
But he takes it further than most true crime stories.  While investigating the story almost a century later, Grann uncovers evidence suggesting that the Osage murder total may have been much higher than previously thought.  The crimes as revealed by Tom White and the FBI appear to have been just the tip of a greed-driven, genocidal iceberg.  The author's recent discoveries add an additional layer of dread to this already complex and compelling tale.
A haunting and engaging true story of evil, betrayal and lust for money, Killers of the Flower Moon is one more chronicle of the often bitter interface between Europeans and Native Americans.    As history has displayed time and again, wherever oil is found, blood and violence are soon to follow.  Highly recommended.
— D. Driftless
Reviews of other historical true crime books:  The Devil in the White City   /   The Murder of the Century   /   A Serial Killer in Nazi Berlin   /   The Wicked Boy
[AMAZONPRODUCTS asin="0385534248″]