I can see for miles…
Author:  Barry Lopez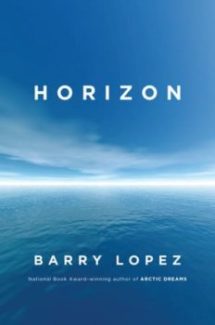 He's spent a life time traveling the world.  He's also an acclaimed writer.  There are very few people who've managed to combine both passions more effectively than Barry Lopez.  Horizon is the latest proof of that thesis, successfully serving as a long awaited sequel to his award-winning Arctic Dreams.  It's a remarkable look at the world from someone who's devoted most of his life traveling its surface.
Published over thirty years ago, Arctic Dreams was a groundbreaking work in its passionate presentation of the peoples, history and landscape of the Far North.  I remember reading it way back then – probably during the first Bush administration – and it had a powerful effect on me, opening my eyes to the potential for great non-fiction.  While the narrative non-fiction genre had already appeared on the scene, I think it's fair to say that Lopez, along with others like Edward Abbey and Ann Zwinger, was one of the most influential writers to bring the genre to the natural world.
This time around, the author spans the entire globe on his journeys.  He starts out at Cape Foulweather on the Oregon coast near his home, but then proceeds on to some of the most extreme places on the planet.  From a tiny island off the east coast of Ellesmere Island, to the Galapagos, the Rift Valley of Africa, Tasmania and the mountains of Antarctica.  His exploits are sure to make any aspiring adventurers drool with envy.
Whether he's musing about the life of famous explorers like James Cook or Robert Scott, or shining new light on not so famous adventurers like Ranald MacDonald, Lopez always provides a thoughtful approach. One that's often tempered by his own experiences in dozens of countries over the decades.  He also displays a seemingly tireless fascination with the thousands of different human cultures that have come and gone over the millennia, ruminating on the many survival secrets that may have been lost or ignored as humanity heads toward an uncertain future.
Humility isn't the most common personality trait among writers.  To be a writer often implies that "thousands of people should take time out of their busy lives to read what I've written."  But somehow, Lopez combines brilliant writing with astonishing humility, recognizing that his views and opinions are entirely shaped by his singular set of life experiences.  He also humbly acknowledges the good fortune he's had to be able to tag along with dozens of fascinating researchers and explorers over his career.  The network of contacts the man has maintained is nothing short of astonishing and he seems to have used that privilege to its fullest.
Much travel writing is two dimensional, literally latitude and longitude.  But Lopez, maybe better than any author I've ever read, adds a third – and sometimes a fourth – dimension to his accounts, delving deeply into the lives of those who have come before and sharing his own emotional experience, as well.
As he nears the end of an acclaimed writing career, it would have been easy for Lopez to just cobble together an account of his years of travel, memoir style.  But despite this volume's heftiness, it's clear that he's been rather selective, writing about places that had a profound impact and weaving numerous individual adventures together into a complex tapestry that spans the entire globe.
Thoughtful and deep, I recommend that you read Horizon slowly, letting each contemplative installment percolate and simmer.   Remarkable for his persistent and uniquely compassionate voice, Lopez has delivered a worthy companion to his original 1980s masterwork.  His promotion of cultural diversity is particularly timely as the decisions regarding who gets a seat at the table when it comes to deciding humanity's future plans become increasingly important.   He quite effectively argues that given the mess we've created, it's imperative that we use all the different sources of wisdom that we have available.   Highly recommended.
— D. Driftless
Cape photo by Mighty Free (CC BY-SA 2.0)/Penitentiary photo by Martin Pot (CC BY-SA 3.0)
[AMAZONPRODUCTS asin="0394585828″]