The end of peace…
Author:  Hampton Sides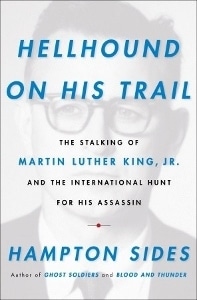 It was one shot destined to go down in infamy, arguably the most heinous single act of the 20th century.  But what might be most remarkable about the assassination of Martin Luther King, Jr. is that the perpetrator almost got away with it.  It took more than two months for authorities to capture James Earl Ray, following that fateful evening on April 4th, 1968 in Memphis, Tennessee. Bestselling author and journalist Hampton Sides tells of the months leading up to the crime and the subsequent manhunt for King's killer in Hellhound on his Trail, a thoroughly riveting account of final days of the Civil Rights Movement.
Ironically, Sides – a Memphis native – doesn't even mention the name James Earl Ray until page 321 of the book. The serial offender spent so much of his life concocting aliases and avoiding capture that he could barely keep all his lies straight.  But through it all, it becomes clear that Ray is deserving of his place high on the list of history's most vile sociopaths.  The contrast with Martin Luther King, one of history's greatest pacifists, couldn't be starker.
It's safe to say that plenty has been written about the man most visibly identified with the struggle for African-American rights in the 48 years since his murder on the second story balcony of the Lorraine Motel. Wading through the copious resources, Sides deftly weaves the myriad details of King and Ray's lives into a taut true crime drama.  Displaying a fondness for the frequent use of seemingly trivial details, he excels at creating a remarkably dramatic and realistic tension that makes the book much more than ordinary history.
In the end, it's hard to know what to think of Ray (aka Galt, Sneyd, Lowmeyer, etc.). Was he an impulsive hate-filled racist?  A thrill-seeking sociopath?  A narcissitic fool?  All of the above?  Or was he just an evil sponge who soaked up too much of racist rantings of people like George Wallace and J. Edgar Hoover?  Unrelentingly, Side explores the man from countless angles, trying to figure out what turned him into a cold-blooded killer.
Combining riveting biography and old-fashioned criminology with top-notch suspenseful storytelling, Hellhound on his Trail is an example of narrative history at its best.  It's a highly recommended addition to Hampton Sides' growing list of popular and critically acclaimed works.
— D. Driftless
Lorraine Motel photo by DavGreg (CC BY-SA 3.0)
Read Dave's review of another great Sides book, In the Kingdom of Ice.
[AMAZONPRODUCTS asin="0385523920″]