Bird of death…
Author:  Max Porter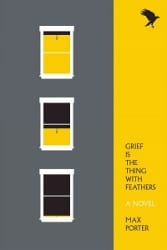 When their wife and mother dies suddenly, the dad and two boys live on.  Forever broken by this unexpected tragedy, the threesome searches for a way to go on living.  While the underlying story couldn't be simpler, Grief is the Thing with Feathers presents loss and suffering in a uniquely complex and painful way.
In his first novel, British writer Max Porter divides the narration between the Dad and the Boys, revealing their different perspectives.  In addition, interspersed between the grievers' installments, we're treated to commentary by Crow, their dark and vulgar imaginary friend.  The familiar bird of death is often rather cryptic in his remarks, sometimes supportive, other times almost mocking.  But whether he's randomly squawking or reveling in ambiguity, Crow seems to help the survivors as they try to go on living.  Taken as a whole the three different narrators create a curiously intriguing glimpse into the dichotomy of life and death.
Unlike Emily Dickinson's "little bird" of hope, Porter's black Crow of grief chooses to focus on darkness and despair.  But the author makes it clear that even an imaginary spirit guide with a gloomy crude streak can provide solace.
Winner of numerous awards, Grief is the Thing with Feathers, cleverly and poignantly interplays different perspectives on death.  The dad's pain and the boys' innocence are deftly contrasted with the physical reality of death and decay that only a avian scavenger is willing to fully admit to.  Another enthusiastic recommendation from Graywolf Press.
— D. Driftless
Other reviews of books from Graywolf Press:
See You In Paradise   /   Life on Mars   /   The Empathy Exams   /   Notes from No Man's Land   /   On Immunity
[AMAZONPRODUCTS asin="1555977413″]