The 25% solution…
Author:  Linda K. Olson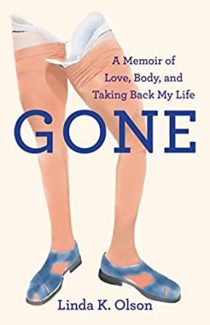 Adversity stories are pretty common, but it's hard to top the life story of Dr. Linda K. Olson.  Following an accident in 1979 while traveling in Germany with her husband, the 29 year-old radiology resident was injured so severely that both her legs and her right arm required amputation.  Gone is the incredible story of how she got her life back.  It's one uniquely powerful story.
What stands out so impressively in the beginning is how quickly Olson and her husband Dave – who was also injured in the accident – managed to find a positive attitude.  Within a few days, they were planning their new future and by the time they left the Salzburg hospital a month later, they were minor celebrities.  With her husband's unwavering – and often ingenious – support Olson would go on to accomplish remarkable things.
In a consistently upbeat tone, Olson describes her initial experience with her prosthetic legs and her successful efforts to complete her radiology residency and go on to be an award-winning faculty radiologist at UC-San Diego.  Oh, and she also re-learned how to drive a car and birthed and raised two kids along the way.  Rarely doubting her ability, she used a potent combination of positivity, stubbornness and intellect to face every obstacle in her way.
The book is also a powerful love story.  Husband Dave's tenaciously brilliant approach to his wife' predicament is an incredible testament to their enduring love and devotion.  Many marriages would have crumbled under the pressure, but as with any great love story, adversity only made their relationship stronger.  This is most vividly demonstrated in the two beautiful children they raised, both of whom make small contributions to the book.
Certain to provide a new perspective to the obstacles faced in one's own life, Gone is a consistently engaging account of one woman's efforts to achieve the impossible.  A worthy addition to anyone's list of amazing memoirs.   I can recommend it highly for anyone who needs a lesson in the power of positive thinking.
— D. Driftless
Thanks to She Writes Press for sending me this Advance Reader Copy.  Gone is available this fall.
[AMAZONPRODUCTS asin="1631527894″]