Searching for a home…
Author:  Matthew Desmond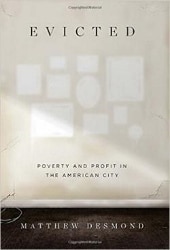 Calling 9-1-1 will get you evicted.  I'm sure I'm not the only reader who was shocked to learn this.  Having small children in the home is another unexpected liability if you're trying to keep your apartment.  In an astonishing exploration of life on the edge, Harvard sociologist Matthew Desmond reveals the pain, suffering and heartbreak of the modern housing crisis for America's poor in Evicted.
While still a graduate student at the University of Wisconsin-Madison, Desmond spent most of 2008 and 2009 in Milwaukee, embedding himself in the lives of some of the poorest people in one the nation's poorest and most segregated big cities.  He spent several months living in the crappiest trailer park on the city's South Side.  He then moved into a rooming house – at $400/month – on the predominantly African-American North Side.  Armed with a digital recorder, a camera and a pen and some notebooks, he befriended dozens of residents in both locations, despite persistent suspicion and skepticism about his claim to be a researcher.  He also spent time with some of the landlords and residential managers, capturing their side of the dynamic between poor renters and the business men and women who serve them and profit from them.
Before he began the project, he was well aware of the fact that eviction hadn't really been studied before.  So, when he didn't have the basic data he needed, he went out and collected it.  In the process, he creates a remarkably riveting account of how the search for safe shelter is an all-consuming project for many of our poorest citizens.
While society has always had poor people, the eviction crisis that Desmond describes may be a more recent phenomenon.  In the past couple of decades, rental housing prices have continued to increase for numerous reasons, while many peoples' incomes have stagnated.  As a result, poor families are forced to put higher and higher percentages of their income towards rent, creating an unsustainable cash flow problem, which means more and more people are falling behind on their rent payments.
Even though he devoted years of his life and countless hours of gathering, transcribing and organizing his work in order to create this book, Desmond does a remarkable job of keeping himself out of the story.  He eschews pathos – despite ample opportunity in the face of repeated tragedies – letting the families' stories speak for themselves.   His simple, matter of fact prose makes the events all the more brutal and devastating.  Consistently captivating, his writing is at its most powerful when he's describing how eviction affects the lives of children, who spend so much of their youth being repeatedly uprooted from home and school.
Yet despite the multiple tragic narratives, there are no heroes or villains.  Each individual's story is told without sugar coating, revealing warts and all.  Rather than create a drama, Desmond is primarily interested in bringing the crisis to the attention of average people, hoping to help the country come up with sensible, humane solutions.
For people who have had the good fortune of a financially favorable upbringing and continuous employment – like me – Evicted will be an eye-opening experience.  It shines a light on one of the darker aspects of America's widening class disparity, revealing the critical role that housing plays in this burgeoning tragedy.  It's a thoroughly engaging and remarkably up close look at a world that many of us never have to acknowledge.  Highly recommended.
— D. Driftless
[AMAZONPRODUCTS asin="0553447432″]