"Something wicked this way comes."
-William Shakespeare, Macbeth
Author: Mindy Mejia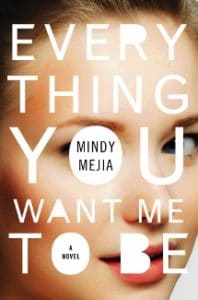 Mindy Mejia's sophomore effort, Everything You Want Me to Be, is a literary thriller that's easy to relish. Written in undemanding, vivid language that pulls the reader in from the first page, this dishy book is perfect for train rides, late nights, and lazy days at the beach.
Everything You Want Me to Be recounts the murder of high school senior and rising star Hattie Hoffman. Bold, gifted and desperate to flee her little Minnesota town for Broadway, Hattie makes some shrewd decisions that land her in a heap of trouble. Although she lacks experience and maturity—she's an 18-year-old, after all—Hattie is largely sympathetic character. Watching her demise is unnerving, because it reminds us that even the most trifling of choices, devious or innocent, can bind us to others in unforeseen ways.
The book is narrated by three characters, each well-meaning but scarily flawed: Hattie herself; Peter, her high school English teacher; and Del, the sheriff. The novel alternates from one perspective to another, moving along briskly and offering a healthy dose of foreshadowing and secrecy. The different voices build on each other, growing more twisted as the book reaches its climax and we finally learn who killed Hattie—and why.
While Mejia's plotline and characterization are entertaining, her novel becomes something more intellectually compelling as she laces the pages with numerous literary references. Hattie stars in local productions of Jane Eyre and Macbeth, for instance, and she is a voracious reader beyond her years. Like her English teacher, she is addicted to great works of fiction. Peter tells his students on the first day of school, "Every book changes you in some way, whether it's your perspective on the world or how you define yourself in relation to the world. Literature gives us identity, even terrible literature." This is a lovely sentiment, for sure, but he goes on, tongue-in-cheek: "Moby-Dick, for example, defined how I feel about rope. I don't know how anyone can write pages and pages of thinly veiled rope metaphors. If there are any Melville fans in the room, I might have trouble passing you."
Mejia is also well-skilled at creating a sense of place. The rural Minnesota landscape she constructs is spot-on and key to the progression of the story. The cornstalks and rundown barns come to haunt both the reader and the main characters: "We drove into town, a small grid of streets surrounding one main drag of businesses underneath the soybean plant's smokestacks on the horizon… I could feel the effect of the farm trickling into her."
My only complaint with Everything You Want Me to Be is the flimsy premise that Hattie is trapped by the different roles she's required to play in life. Let's be honest: the girl is young and clever, and she's got a beautiful future ahead of her. At the start of the book, Hattie's greatest "angst" consists of the entirely reasonable responsibilities that go along with being a sister, a daughter, a friend. I don't buy the concept that these roles are as soul-sucking as she and Mejia make them out to be. If Hattie were unpopular or deeply oppressed in some way, the reader would have a much easier time viewing her as someone capable of taking drastic measures.
This beef notwithstanding, Hattie completely kills it as Lady Macbeth, the last role she ever plays: "My lines hinted at desperation, like I knew I was heading over the abyss into madness and could not understand the fall… I poured my heartache into the scene."
Hattie's desire is her undoing, and you won't be able to avert your eyes as she makes her tragic descent, dragging half the town with her.
[AMAZONPRODUCTS asin="1501123424″]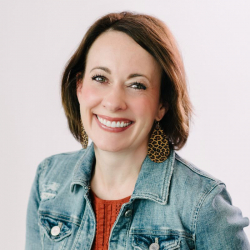 Latest posts by Laura Bird
(see all)