Two-wheeled travelogue…
Author:  Tim Moore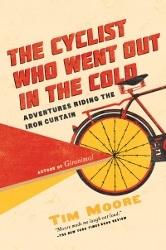 Bravery is a strange thing.  While it's generally considered one of humanity's more admirable traits, it's frequently not far removed from stupidity.  Moreover, the odds of misfortune appear to increase considerably if you're a British humor writer.  Despite the risks – and conveying a confidence that may not be quite appropriate – Tim Moore manages to (literally) ride the fine line between bravery and stupidity as well as it can be done.  As is so often the case, the writer's craziness is the reader's gain and I'm happy to share that The Cyclist Who Went Out in the Cold is the best travel book I've read in a long time.
Clearly a bigger challenge than his previous biking adventures riding the 1914 Giro d'Italia and the 2002 Tour de France, this ride smacks of utter insanity if you look at it objectively.  Known as the Iron Curtain Trail, it's 6000 miles from the northernmost reaches of Norway to the Bulgarian coastal town of Tsarevo on the Black Sea.  Often more theoretical than actual, the trail crosses through 19 different countries, spanning much of what were formerly known as the Warsaw Pact countries.
For reasons that aren't particularly clear, Moore chooses to start pedaling while it's still very much winter in Norway and Finland, braving barren wastelands and subfreezing temperatures.  Sporting spiked tires to carry him across the snow-covered roads, he slogs along at an average of 8 km/hr.  Unfortunately, he eventually trades quiet arctic desolation for insane St. Petersburg rush hour traffic, which leads to increased speeds, but is certainly no less terrifying.  And so it goes through the Baltic States, Poland, the former East Germany and on and on until he reaches the Black Sea, exploring an impressive cross-section of eastern European diversity.
Whether on wheels or on foot, unsupported adventures can display markedly different styles.   Some explorers may bring everything they need with them.  Others may strive to live off the land as they go.  Moore seems to find a way to have the worst of both worlds.  Riding on his own, with nothing more than a fistful of bike trail maps and a couple brief contacts with his family, Moore frequently has to beg shop owners to open their doors so he can procure a few mouthfuls of sustenance.   When he's not obtaining water from cringingly questionable sources, he's sucking down energy drinks at a prodigious rate and eating almost anything he can get his hands on.  Apparently there's no such thing as a best-by-date when you find a half-eaten sandwich at the bottom of your pannier bag.
All along the way, when he's not defying death at each turn, Moore shares much of the Cold War history of the area.  Frequently heading off course to find a specific monument or landmark, his heightened curiosity and impressive storytelling skills are utilized to the maximum.  After a few thousand miles it's conceivable that this gimmick could eventually grow stale, but – just like the ride itself – the story becomes increasing compelling as it nears the end.
While I didn't get every bit of British humor he delivers, Moore's almost stream of consciousness ramblings are frequently hilarious.  His endlessly manic style makes me think that he consumed as many energy drinks during the writing and he did during the riding.
One final point (or two), just to be clear.  This guy is no super-athlete.  It appears that his pre-adventure training was minimal at best.  And – saving the best for last – his bike is the pinnacle of hilarity.  Known as the MIFA 900, it's a "shopping bike" that was produced in 1990 in East Germany, just as the Iron Curtain was coming down.  The ill-fitting machine has absolutely no business on a cross-continental trek of any variety and his frequent efforts to keep the thing ridable are some of the highlights of the three-month narrative.
Overflowing with wacky inspiration, genuine humor and intriguing history, The Cyclist Who Went Out in the Cold is pure entertainment from beginning to end.  A travelogue full of improvisation, bravery and foolishness, it's really quite an accomplishment for this average 50-something author.  There are so many ways this story could have gone wrong.   Dogs, lorries, weather, navigation problems, international legal snafus, starvation, mechanical failure, bodily failure, scurvy – any of the above could have brought all his efforts to an ignominious end.  Fortunately, he manages to survive so that this remarkable book could see the light of day.  Highly recommended, even if bike trips really aren't your thing.
— D. Driftless
Author photo by the author (CC BY-SA 4.0)
[AMAZONPRODUCTS asin="168177299X"]