9000 years of suds…
Authors:  Jonathan Hennessey, Mike Smith and Aaron McConnell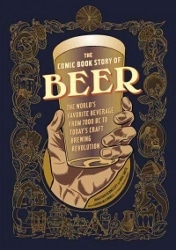 More than 35 billion gallons a year! That's enough beer to quench even the most outrageous thirst.  Spanning the globe, the artful combination of barley, hops, yeast and water is second only to tea when it comes to popular liquid diversions.  While it's obvious that beer has made quite an impact on the world, what you may not know is that the history behind it is abundantly interesting.  Displaying an intoxicating enthusiasm for their subject, writer Jonathan Hennessey, brewer Mike Smith and illustrator Aaron McConnell have teamed up to create The Comic Book Story of Beer.
Tracing its origins as far back as 7000 BC, the authors start by describing how an eagerness for beer may have been one of the primary reasons for the early adoption of agriculture. Then, in a preview of a cultural divide that persists to this day, they go on to describe how the wine-drinking Greeks and Romans were eventually overrun by the more robust beer-drinking barbarians to their north.  Monks and alewives take the stage next, as the art and science of brewing continued to evolve during the Dark Ages.  But it wasn't until the appearance of hops, 700-800 years ago, that the modern taste of what we call beer really took form.  It was then that the brewing industry started to grow.  England and Germany were first; but then on to America, where men like Miller, Schlitz, Pabst, Stroh and Busch became household names.  They also became fabulously wealthy at the same time.
Not surprisingly, the authors don't have much nice to say about the brief experiment in American social engineering known as Prohibition. Although it ended in 1933, it had the effect of wiping most of the nation's small local breweries off the map, leaving only a few brewing behemoths to make bland beers for the uninspired masses.  It wasn't until the 1970s that individual enthusiasts started to take some of the industry back, spawning the resurgent craft brewing fad that continues to expand.
Along the way, the authors take time to describe much of the science behind the brewer's art. They also feature detailed descriptions of several historically significant varieties of beer, from India Pale Ale to American Lager.
With passionate writing and energetic illustrations, the authors inject plenty of fun, joy and enthusiasm into the topic. Their deft combination of history, science and social commentary keeps the captivating story rolling along with nary a spilled drop.
If you've ever enjoyed a tall cold one, you're bound to find The Comic Book Story of Beer to your liking.  An ancient beverage that has managed to withstand the vagaries of history, beer has never been more popular.  Consumed in moderation, this rousing history of suds is sure to entertain.
— D. Driftless
beer photo by Takeaway (CC BY-SA 3.0)
[AMAZONPRODUCTS asin="1607746352″]