Marriage and war…
Author:  Elaine Showalter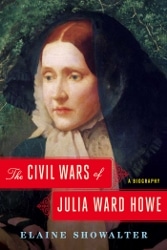 She's famous for one thing.  But while her singular contribution to the Union cause – The Battle Hymn of the Republic, published in 1862 – served to preserve her status with American history trivia buffs, Julia Ward Howe was much more than just an accomplished poetess.  She was one of the earliest American women to espouse a feminist point of view, at a time when the idea was considered disruptive and impolite.  Much of her drive for equality was limited by the willful interference of her husband, the acclaimed philanthropist Samuel Gridley Howe.  Previous biographies of the writer – notably the works of her daughters – have tended to gloss over the marital conflicts that were such a determining factor in her life.  But in The Civil Wars of Julia Ward Howe, feminist literary critic Elaine Showalter seeks to set the record straight, revealing the full life of a remarkable woman.
Starting out with the poet's wealthy upbringing in New York City, Showalter tells how JWH's access to many prominent individuals in government, academia and literature stimulated a passion and ambition that would both motivate and haunt her until her death at age 91.  In hindsight, marrying a charismatic and heroic older man who relished and required frequent adoration and attention wasn't the best way to pursue a career full of literary enlightenment.  Carrying, birthing and raising six children didn't help much either.  But in America in the middle of the 19th century her options were limited; even a woman of independent means could only accomplish so much.  Digging deeply into the extensive archive of JWH's correspondence, the author is able to uncover the many obstacles that the poet faced as she strived to make a name for herself in a predominantly male field, dreading each pregnancy that slowed her ascent.
One of the more interesting parts of the book is a brief comparison between JWH and her exact contemporary Walt Whitman.  How would the acclaimed author of Leaves of Grass have fared had he faced the impediments that JWH did?  More than 150 years after the fact it's hard to fully appreciate how determined the successful literary women of the 19th century had to be in order to thrive, but Showalter does an admirable job of capturing the many challenges and hurdles they faced.
From the comfort of the 21st century, moralizing about America in the 19th – be it on the topic of slavery or sexism – is fraught with hazard, but Showalter balances her criticisms thoughtfully.  In the final analysis, her critical treatment of JWH's chief nemesis – her husband – is reasonable, placing his behavior in the context of the time without hesitating to highlight his hypocrisy when warranted.  The man was progressive in many ways – from his abolitionist efforts to his groundbreaking educational work with the blind – but a belief in a woman's right to chart her own course in life was not one of them.
Full of interesting history and presenting a well-rounded look at a particularly fascinating American heroine – whose fame only seemed to grow as she aged – the book has only one significant shortcoming.  There's barely any analysis or discussion of her most famous work.  What did literary critics think of The Battle Hymn of the Republic at the time?  What kind of stature does it garner today among modern critics?  Why did it resonate so strongly during the Civil War?  Why has it continued to do so to the present day?  Is the work really as exceptional as its popularity would suggest?  For whatever reason, there are very few songs I remember singing in grade school more vividly than this passionate work, which certainly gained greater fame following Lincoln's tragic death.  I'm sure that I'm not alone in remembering the hymn with some fondness and an analysis of the poem itself would add a lot to this narrative.
Focusing on the remarkable life of a 19th century woman of powerful ambition, The Civil Wars of Julia Ward Howe succeeds as an intriguing historical biography of one of America's first famous poetesses.  While her signature achievement may never be forgotten, there is much about the woman's extraordinary life that's also worthy of remembrance.  This book demonstrates that fact quite clearly.  Four stars.
— D. Driftless
[AMAZONPRODUCTS asin="1451645902″]