History in the dust…
Author:  Hampton Sides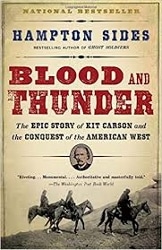 I recently reviewed a book by my latest favorite science writer.  It just so happens that I've got a favorite history writer to go along with him.  An author of diverse interests, Hampton Sides hasn't failed me yet.   Having enjoyed his two most recent books, I sought out Blood and Thunder, a narrative of the remarkable life of Kit Carson published in 2006.  It's just as great as I had hoped.
Way back in 1826, leaving his home state of Missouri as a teenager, Carson headed west on the Santa Fe Trail, eventually becoming an accomplished tracker and fur trapper.  He would go on to play a critical role in opening up the Oregon Trail to European settlers and helping the US wrest California from Mexico, becoming a household name in the process.  But it was his exploits in the American Southwest that make up the bulk of the story.  His efforts in the Mexican-American War, the Civil War and the Navaho Wars played a large part in the making of the modern American West.  His adventuresome life would go on to be immortalized – and exaggerated – in dozens of dime novels that became wildly popular, capturing the mythology of the Wild West for readers worldwide.
But the book is much more than just a litany of historical events and military battles.  Sides does an impressive job of revealing Carson's full personality, conflicting warts and all.  Casting a light on the man's dual existence – fearsomely violent at times, insightfully compassionate and thoughtful at others – the narrative is continually engaging.
While the story of an illiterate, self-made man rising to fame is the stuff of traditional American hero worship, Sides uses much of the book to explore the lives (and deaths) of many of the victims that Carson and his allies left in their wake.  Focusing primarily on the Navaho (Diné) experience, the narrative prominently features the lives of respected leaders like Narbona and Manuelito.  Sides' account of the Long Walk of the Navaho is as illuminating as the story is tragic.
But what makes me such a big Hampton Sides fan is his remarkable storytelling.  His ability to encapsulate decades of convoluted and tumultuous history into a smoothly flowing and riveting narrative is without compare.  Backed up by copious research, he skillfully sprinkles the story with countless intriguing detours, but never loses the narrative line the runs deep within the book.
While it's a consistently compelling account of one of the most remarkable figures in 19th century America, Blood and Thunder also uses Kit Carson's life to tell the much bigger story of the expansion of the United States and the many who suffered as a result.  Featuring some of the best history writing I've ever come across, it's highly recommended by this Hampton Sides enthusiast.
— D. Driftless
Reviews of other Hampton Sides books:  Hellhound on his Trail   /   In the Kingdom of Ice
[AMAZONPRODUCTS asin="1400031109″]