Ursus notorious…
Author:  Marian Engel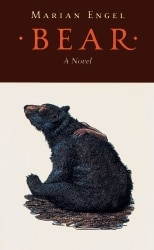 Controversy and Canada rarely travel together.  So when I stumbled across this book, previously enshrined as the "most controversial novel ever written in Canada", I had to see what all the fuss was about.  Written by Marian Engel – a close literary colleague of compatriot Margaret Atwood – Bear is an adult fable that's every bit as shocking as it could be.  It's also a good story.
Given the opportunity to leave her humdrum, "mole" like existence behind, Lou – a quiet unassuming librarian – takes on a promising new challenge.  Having spent her dreary work days consigned to the basement of a historical institute in Toronto, she looks forward to this new project with barely restrained anticipation.  After some legal wrangling with the heirs, a woman named Colonel Jocelyn Cary has bequeathed her island estate to the institute.  Tucked away in a quiet patch of northern Ontario, it houses the remaining effects of the original Colonel Cary, a veteran of the Napoleonic Wars who withdrew to the peaceful woodlands of Canada in the early 19th century.  Optimism abounds as the estate may prove to be a trove of historical and literary jewels.
Lou sets out for the island with excitement, only hesitating a bit after she arrives at the unusual octagonal house in the wilderness to find out that she's also responsible for the Cary's pet brown bear.  Not knowing the first thing about bear care and a bit overwhelmed by the solitude, she nonetheless perseveres and tackles her formidable cataloging task with enthusiasm.  As spring turns into summer, she and the bear grow closer and their relationship evolves into intimacy, including late night swims and lounging by the crackling fire.  As summer turns into fall, Lou tries to wrap up the project, reflecting on how much the bear, the strange house and the surrounding wilderness have transformed her.
Upon its first publication in 1976, the book was received warmly by critics and awarded the Governor General's Literary Award for Fiction, although there were detractors of a more puritanical bent who were dismayed at some of the more sexually lurid aspects of the story.  Unconventional and shocking as it is – even forty years later – I found the short novel unexpectedly compelling.  Driven by Engel's considerable writing skills and the surprisingly affecting relationship between these two lonely mammals, the story brings forth a rainbow of emotions – joy, passion, regret and wonder – often seasoned with a subtle hint of eeriness.
Whatever you think about bears and humans, there's no disputing that this short novel is a unique contribution to feminist and Canadian literature.  One has to give Engel credit for writing the story she wanted write, pulling no punches and leaving no erotic stones unturned.  Maybe it's this honest approach that makes it work so well.  In the end, Bear is worth reading.  It's an undeniably memorable work that might make you think a bit differently about the land of ice fishing, loons and flannel.
— D. Driftless
[AMAZONPRODUCTS asin="0879236671″]