Lunar heroics…
Author:  Andy Weir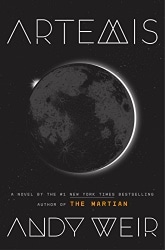 It's humanity's first lunar city.   Constructed in the latter half of the 21st century, the titular Artemis is home to a couple thousand residents who subsist in a network of five partially buried domes.  Nearly self-sufficient, the colony is experiencing a surge in tourism, but it's also suffering from some significant growing pains.  It's into this challenging environment that science fiction novelist Andy Weir has thrown our hip young heroine.
Jasmine "Jazz" Bashara has spent most of her life on the moon.  Having moved to Artemis when she was just six years-old, she's grown up in world of low gravity and flavored algae.  Now a young adult, she's struggling to make it on her own, dreaming of a day when she can afford something more than the coffin-sized living quarters she currently calls home.  Having proven to be a disappointment to her father – an accomplished welder on Artemis – she chooses to strike out on her own, but doesn't always manage to make the best decisions.  Eventually, she gets wrapped in some high stakes criminal shenanigans, putting the entire future on Artemis at risk.
Just as he did in The Martian, Weir has crammed the story full of complicated and incredibly imaginative technological details.  The author clearly takes great pride in the scientific rigor that he brings to the genre, never hesitating to reveal layer after layer of minutiae.   While some readers may find his efforts a bit excessive, this card carrying science geek enjoyed every bit of it.  Weir's enthusiasm for such diverse fields as astronomy, chemistry, metallurgy, engineering and human physiology are on display throughout.  Rather than relying on the genre's trademark techno-babble, his science is heavily researched and plenty interesting all on its own.
But this hard science approach to science fiction can be a dangerous game, as the story can often appear rather frail next to all the tech.  But Weir manages to weaves a compelling narrative with plenty of clever twists, making for a thoroughly entertaining piece of sci-fi storytelling.   Main character Jazz is also well conceived – supported by her nerdy side-kick Svoboda – displaying equal parts charisma, intelligence, humor and self-deprecation.
Confidently putting a capital H in what's known as hard science fiction, Weir has succeeded in his sophomore effort.  Artemis is a genuinely entertaining story that's thoroughly wrapped up in a fascinating tangle of engaging science.  I can enthusiastically recommend it to anyone who enjoyed the author's first book.
— D. Driftless
moon photo by Gregory H. Revera (CC BY-SA 3.0)/Aldrin photo by Neil A. Armstrong
Here's Dave's review of The Martian.
[AMAZONPRODUCTS asin="0553448129″]