Burning with love…
Author:  Monica Hesse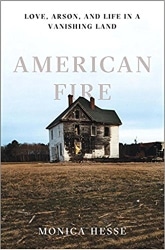 You might not even know it's there.  It's just a narrow spit of land, separating Chesapeake Bay from the Atlantic Ocean and making up the easternmost portion of the Commonwealth of Virginia.  Known as the Eastern Shore, it's attached to Maryland at the northern end and to the rest of Virginia by the 23 mile long Chesapeake Bay Bridge-Tunnel at the southern end.  Rural and isolated, it's always been a unique place of which even many Virginians aren't aware.  It gained a brief moment of notoriety in November 2012 when abandoned houses starting burning down, one after another, night after night.  It wasn't until the 67th act of arson was committed a few months later that the two perpetrators were finally accosted.  Intrigued by this mysterious crime spree and the oddness of the location, Washington Post journalist Monica Hesse couldn't resist a good story and headed down the Delmarva Peninsula to check it out.  American Fire is the thoroughly intriguing result.
So what prompts someone to light 67 houses on fire?  The author figured there had to be some uniquely bizarre explanation for this unprecedented crime spree.  But try as she might, she just couldn't pin any particularly salient or salacious motives on the arsonists.  As she slowly pieces the story together, Hesse reveals circumstances that are generalizable across much of rural America.  Proving that ordinary passions can sometimes lead to surprising and extraordinary actions, the narrative touches on feelings of love, insecurity and fear that many non-arsonists can relate to.
Even though the criminals are identified early in the book, Hesse does a fine job of generating and maintaining suspense throughout.  Aided by many generous local residents, fire fighters and officials, she also paints a detailed account of what it was like to suffer through this reign of terror.  Hesse is a gifted storyteller and as the book moves along the reader can sense her evolving feelings of astonishment, having fallen into a story that turned out to be much more than she expected.
A unique story of love gone terribly wrong, American Fire is a consistently compelling true crime saga that sheds light on one of America's lonely and fading backwaters.  Highly recommended for any reader who enjoys a good real-life mystery.
— D. Driftless
[AMAZONPRODUCTS asin="1631490516″]