High society in Houston: secrets as plentiful as Texas oil
Author: Anton DiSclafani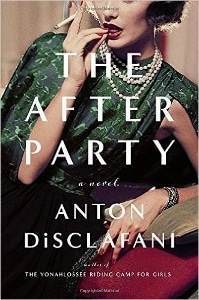 I would love to climb into Anton DiSclafani's mind, because I suspect it's a dark, warped, and slightly dirty place. And I mean that in the best way possible.
Much like her first novel, The Yonahlossee Riding Camp for Girls, DiSclafani's The After Party slyly and glamorously deconstructs the concept of "bad girl." DiSclafani gives us a young woman who doesn't quite fit into societal conventions—a young woman who might be a hot mess or might just be ahead of her time. Or both. Or neither. We don't get a straight answer from DiSclafani, but she writes so seductively that it's a thrill to keep guessing.
The After Party takes place in suburban Houston in the 1950s, but it feels more like Hollywood: there's glamour, fame, sex, alcohol and money—and heady addictions to all of them. DiSclafani's powers of description make me feel as though I'm smelling the cigarette smoke, hearing the clinking of highball glasses, and feeling the rustle of lavish clothes. This privileged world she conjures is breathtaking. "You could identify how well we had done, how well our husbands had done, by the size of our diamonds and how many there were. Were they peanuts or walnuts strung together on a bracelet? A necklace? How far down did it dip between our breasts?"
But The After Party dishes up a lot more than this luxurious and remarkably shallow time and place. The book becomes a sort of tormented love letter from Cecilia Buchanan to her best friend, Joan Fortier. After growing up together, 25-year-old Cecilia cannot grasp why their relationship has changed—and what sordid secrets Joan is keeping from her.
Joan, as you may have surmised, is DiSclafani's bad girl. She is stunning and reckless, and she is able to maintain her place in high society despite some ambiguous decision-making. "There were rules for every single thing in the world, some written, some simply understood, but it didn't matter: Joan broke all of them." Along with the rest of Houston, Cecilia is like a moth to Joan's dazzling flame. "There was only that single moment: Joan, poised. That was Joan Fortier's greatest gift. She made a moment feel endless. She made you feel endless, too. You would never age, as long as Joan was nearby."
I want to like Joan, but I also want to hate her. I want to say that she symbolizes women in the United States before being liberated by the sexual revolution of the 1960s, but I'm not sure if this is accurate. Like Cecilia I am conflicted, and I think that's what DiSclafani's intends. "Joan was a secret, a cipher, a myth. She did not want to be known."
Even with its boozy steak dinners and midnight pool parties, The After Party succeeds in being a curiously deep novel. It scrutinizes big themes like friendship, motherhood, wealth, self-destruction, and our responsibilities—self-imposed or not—to those we love. In the end, it's also about the simple, soul-sucking anguish of keeping up appearances. "Sometimes it was exhausting, remembering all the ways we measured each other. The ruler was long and precise."
-Laura Anne Bird

Mom, fundraiser, blogger and ardent reader, Laura loves literary fiction, memoir, essays—and helping people find their perfect book.

Latest posts by Laura Bird (see all)