Sensory Sorcery
Author: Kate Wyer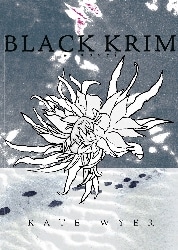 When I was a kid on my grandmother's farm, she and I would each carry galvanized tin buckets into an endless passageway of raspberries. The sensory input, as one might imagine, was plentiful. There was flavor and sun and sharpness and memory and dirt and love and usually a feral cat or two. Reading Black Krim, by Kate Wyer, was like climbing back into those rows of berries.
Through rhythmic first-person narratives, Wyer alternates between three characters with varying degrees of weight to one another. Something I hadn't seen before, which was highly useful, was a pictorial depiction of character shifts; so often, even though I understand the import and intent behind chapter titles and headlines, I find myself skipping over them in a hurry to return to the narrative without delay. The three simple, applicable, images assigned to each main character in Black Krim kept everything sorted, allowing Wyer to snug together points of view as though she were hand stitching the story arc and varying narrators together with tight little loops of colorful thread.
It is a story of holding on too tight, of letting go too soon, as well as an examination of the extraordinarily thin line between selfishness and selflessness and, though the depth of interaction amongst characters goes far deeper than this, the main idea is summarized well in the following excerpt from the character of Corbina:
"I find my faith in the transition of elements. In the segmented body of a worm, the apple core, the wood pulp. That is my fear and trembling; the finding of a rounded and smooth moon snail shell on the beach; pick it up, happy to find one without holes — only to have my thumb pinched by a hermit crab that had made the shell its home. How perfect a home, vacated and then filled, vacated and then filled, until it could no longer be used. The creature that created it, that built it around its soft body, long gone."
Black Krim, put out by Cobalt Press, is poetry in narrative, fingernails in the sun-warmed earth, balls of your feet in the frozen ground. It is playful and serious, a weighted game of moving from the past into the future, and an examination of the strange and mysterious paths we sometimes wander along the way. Kate Wyer is an elegant and tender sensory sorceress.
– Brandi Dawn Henderson
[AMAZONPRODUCTS asin="1941462014″]
Latest posts by Readers Lane Staff
(see all)