"Our culture promotes individuality, while the Amish are deeply entrenched in community. To us, if someone stands out, it's not a big deal because diversity is respected and expected. To the Amish, there's no room for deviation from the norm. It's important to fit it, because that similarity of identity is what defines the society. If you don't fit in, the consequences are psychologically tragic – you stand alone when all you've ever known is being part of the group" — from Plain Truth
, chapter 16.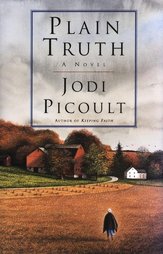 Jodi Picoult's Plain Truth is a suspenseful story about a murder trial. A newborn baby is found dead. The only real suspect is the baby's young unwed mother. Not a new story, but Plain Truth is set in Lancaster County, PA. Katie Fisher, the murder suspect is "Plain", or Amish, and murder is unheard of in the Amish community.
Ellie Hathaway, a Philadelphia defense attorney, reluctantly agrees to defend Katie. As part of the bail agreement, Ellie must move into the Fisher farmhouse to serve as custodian over Katie until the trial. What follows is a forced assimilation of cultures that is at times heartwarming, at other times tense and confrontational.
The story itself is engaging. The reader is drawn in and may have a difficult time putting the book down. We get to know the many characters. I felt a connection to and liking for each of them. There was not a single character in the book that I disliked.
We sympathize with Katie. She is young and sheltered, but, at the same time rather worldly. Given her personality and upbringing, we can not really believe in her guilt, but the facts of the case force us to question the events of the baby's death and Katie's involvement.
Ellie works hard to win her case, but just as hard as she fights for Katie's freedom, she is fighting her own demons. Raw from the ending of a long-term relationship, Ellie very clearly hears the ticking of her biological clock. Having desperately wanted a baby for years, and having to face the fact that she may never fulfill that dream; Ellie has a very difficult time defending her client on charges of neonatacide.
The story of the investigation and trial is compelling. There are twists and turns that keep the reader guessing what really happened the night of the baby's death. Even more riveting are the psychological and social themes that Picoult has woven into her novel.
Plain Truth explores the issue of identity, and how the concept of identity differs so dramatically between the "English" and the "Plain" communities. In an American court, defendants strive to prove their innocence and avoid punishment. In the Amish culture, individuals strive for acceptance, and will confess to crimes or wrongdoings for which they have no "guilt" in order to gain forgiveness and continued acceptance in the community. While Ellie strives to absolve her client of guilt, Katie wants only to "confess" so that she can return to her family and church, and resume a normal life. The concepts of innocence and guilt are less important to Katie than the reality of forgiveness and acceptance.
Picoult does a wonderful job in demystifying the Amish. By depicting their lives and beliefs, they do not appear backwards or primitive – just a bit different. We understand their faith and their customs. Their lifestyle does not seem strange, but rather serene and wholesome.
Plain Truth is about romantic love, love of family, and the conflicts that may emerge between the two. It speaks of the concepts of individuality and identity. Perhaps mostly it is about truth and forgiveness. Plain Truth explores how truth is not always what it seems, and how forgiveness may be the greatest gift that we, as humans, can give or accept.
Picoult is a brilliant story teller. In addition, she has the ability to make the reader think. I loved this novel! It kept me entertained; it taught me of a culture about which I had little knowledge; and it made me think about issues of morality. Clearly a five star novel, Plain Truth is a book that I thoroughly enjoyed and highly recommend.
— D. Igo