We're turning up the heat this summer with an all-new bunch of 2015's red-hot rock star romances. With sexy bad boys and broken-hearted rockers looking for a second chance at love, there's plenty of steamy passion for beach reading, summer vacation, or chilling at home. For more sizzling reads, check out our first rockstar romance list!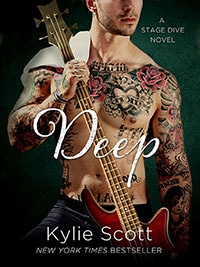 Deep (A Stage Dive Novel)

Author: Kylie Scott
What happens in Vegas doesn't always stay in Vegas! Ben Nicholson, the super-sexy bass player of Stage Dive, knows better than to hurt his best friend's little sister, Lizzy Rollins. But a passionate hookup in Vegas leads to some pretty permanent consequences — namely, a positive pregnancy test. Now they'll have to step up and take responsibility… but will their new grownup duties lead to an emotional connection?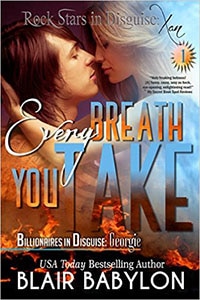 Every Breath You Take
(Billionaires in Disguise)
Author: Blair Babylon
At a high-society wedding, Georgie Johnson meets Alexandre de Valentinois, a ridiculously wealthy duke who jets around the world on private planes and blows his inherited fortune. I mean, we've all been there, right? When Alexandre sings at the wedding, his beautiful voice captures Georgie's heart… and stirs her long-lost passion for classical music. But Alexandre has a secret: he's actually Xan Valentine, the singer of Killer Valentine. Can he protect Georgie from the dangerous paparazzi and stalkers that come along with his glamorous rock-star lifestyle?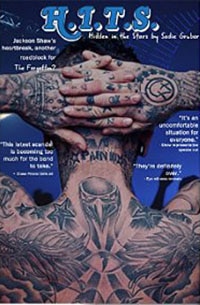 Hidden in the Stars: HITS (a Falling Stars novel) Book 2

Author: Sadie Grubor
It's hard enough to deal with a breakup as a regular person, let alone when you're a celebrity and every ugly detail is splashed across the tabloids. Jackson Shaw, guitarist of The Forgotten, just wants to forget his heartbreak — whether that means boozy partying, drugs, or high-profile hookups with supermodels and hot chicks. Eventually, even that gets old, and Jackson heads to L.A. to be a judge on a musical-talent reality show. All he wants is a distraction from his pain… but he discovers an alluring new addiction.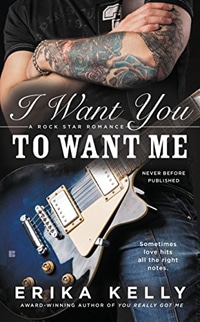 I Want You to Want Me (A Rock Star Romance, Book 2)

Author: Erika Kelly
Derek Valencia's band is finally enjoying the success they've worked hard for — until he nearly ruins it all. When pictures of Derek tossing stark-naked groupies off a balcony go viral, they're the punchline of the day, and he gets a minder whose job is to keep him from any more stupid stunts. Violet Davis swore off the music industry, but can't resist the generous paycheck that will finally allow her to pay off the mortgage on her wildflower farm (!!!). The rock star and the farm girl are a prickly pair at first, but soon grow close. But can a flower-loving farmer and a wild child find a life together that satisfies them both?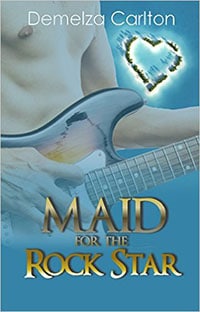 Maid for the Rock Star (Romance Island Resort Series Book 1)

Author: Demelza Carlton
Audra is a maid at the fancy-pants Romance Island Resort, so she knows all about keeping secrets and cleaning up messes. And the number-one rule? No hookups with the guests. Jay Felix is escaping a bad band breakup when he lands at Romance Island. Audra catches his eye immediately… but she's not one to break the rules. Can he convince her to live on the wild side? This one is just $1, so you really can't go wrong.
Rocked Part 1: A New Adult Rockstar Romance

Author: Bella Wild, Bella Love-Wins
Not just rock stars, but female wrestlers in this one! Billionaire rocker Johnny Q. Venom (arrghh) loves to write songs and play for small crowds, but isn't so crazy about flying around the world for concert tours and promotional appearances. Amanda Baker is a former female wrestler, forced to retire in her twenties and now working as a high-end bodyguard to the rich and famous. She takes a high-paying job protecting Johnny… but she doesn't know that he's been her biggest fan for years. Sounds like a recipe for a sexual harassment lawsuit — I mean, a passionate romance!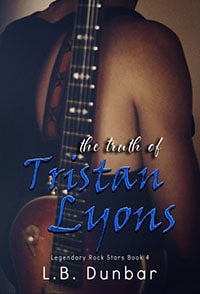 The Truth of Tristan Lyons (Legendary Rock Stars Book 4)

Author: L.B. Dunbar
Tristan Lyons isn't taking the disappearance of his band's frontman (and best friend), Arturo King, very well. Distraught, he heads to a quiet mansion on the Cayman Islands to rest and recover… only to find an intruder ruining his privacy. Petite, blonde Ireland convinces Tristan that she's not a crazy groupie — in fact, she doesn't even know who he is. They agree to stay out of each other's way, which naturally means he ends up giving her sex lessons, because OF COURSE she's not only stunningly gorgeous but also inexperienced with men. Each book in the series covers a different member (heh) of the band, so if you're intrigued, you can find out more about the mystery of the disappearing singer.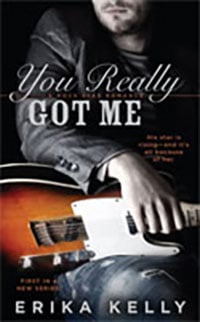 You Really Got Me (A Rock Star Romance Book 1)

Author: Erika Kelly
Emmie Valencia is an ambitious band manager who's determined to be the biggest name in the music industry. She just needs a chart-topping band to make her name. Emmie visits a friend in Austin and gets a local band into Texas' biggest music festival. Lead singer Slater Vaughn is grateful for their big break… and finds himself swooning over Emmie's smarts and sexiness. But no, Emmie has permanently sworn off rock star bad boys! Hasn't she?
You might also like:

Latest posts by Stephanie Perry
(see all)