Read in moderation…
Author:  James Renner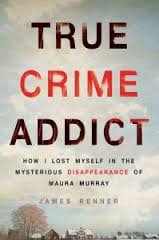 She simply disappeared.  On February 9, 2004, after crashing her car into a rural New Hampshire snowbank, Maura Murray vanished.  Was the 21 year-old nursing student kidnapped, murdered or abducted by aliens?  There were few clues to suggest any of the above.  Having made a career of the true crime genre, journalist James Renner came across this still unsolved mystery in 2011, and quickly became hooked.  He tells his story in True Crime Addict.
The story becomes almost surreal at times, as Renner peels away layer after layer of mystery.  Relentlessly, he seeks out the usual suspects:  the school bus driver who saw Murray last, the boyfriend, the dissembling father.   He sifts through the old evidence, uncovers plenty of new leads and explores numerous theories in a perpetually frustrating effort to make sense of it all.  Sustaining suspense throughout, the author keeps the twists and turns coming.  It's true crime drama at its finest.
But that's only half the story.  It doesn't take too long for the reader to realize that Renner is completely at the mercy of the mystery.  Addicted in every sense of the word, his life slowly unravels as he obsesses over details and minutiae day after day.  While he has some insight into his predicament – hence the book's title – he really doesn't have anything under control.
If you like television crime shows like Making a Murderer, Sherlock or The Killing, this book is sure to tap into that same dark captivating vein of vile voyeurism.  Or maybe you're more interested in reading about one man's descent into madness.  The book is riveting on both levels.  Featuring a likeable, real-life sleuthing protagonist, the story is dangerously readable.  I found myself simultaneously rooting for the man and becoming infected by the same obsessive bug that takes him down so hard.
More than just your standard reality-based fare, True Crime Addict is an abduction story with an extra tantalizing twist.  It's as addictive as it is bizarre.  Highly recommended.
— D. Driftless
Reviews of other true crime books:
The Book of Matt   /   Lost Girls   /   The Devil in the White City   /   The Killer of Little Shepherds   /   The Murder of the Century   /   A Serial Killer in Nazi Berlin
[AMAZONPRODUCTS asin="1250089018″]