Good news for book lovers: Summer Book Bingo is back! This summer reading program for adults (ages 15 and up) gives you the chance to win some great prizes from the Seattle Public Library and Seattle Arts & Lectures. Download your book bingo card and start playing today!
How Can I Play Summer Book Bingo 2016?
Step 1: Read lots of books! Then fill in bingo squares with book titles as you finish them. Go for a bingo and you could win a $30 gift card to an independent bookstore. Get the full blackout and you could win a library of books by 2016–17 Seattle Arts & Lectures authors AND two SAL 2016–17 season tickets! (Blackout cards are also eligible to win the bingo prizes, so you might as well go all out.)
What I like about Summer Book Bingo (other than PRIZES, obvs) is that filling in all the squares requires you to move beyond your usual reading habits and try new things. I don't typically read a lot of poetry or short stories, but I'll be reading at least one collection of each now. For "written more than 100 years ago," I might dust off some of the classic literature I studied as an English major. There's even a customizable square for "out of your comfort zone," whatever that may mean to you.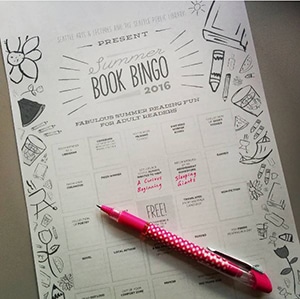 Here's what I've got so far:
Want to share your book bingo progress on social? On Twitter, tag #BookBingoNW2016, @SeaArtsLectures, and @SPLBuzz. On Instagram, tag #BookBingoNW2016, @seattlepubliclibrary, and @seattleartsandlectures. You can also submit your completed bingo card using these tags.
Good luck, book bingo players! What will you read first?

Latest posts by Stephanie Perry
(see all)