Oh sure, you could be making yourself smarter this summer with some brainy nonfiction or looking high-class at the beach with a literary classic. But wouldn't you really rather dive into a creepy, edge-of-your-seat psychological thriller? Of course you would! Here's a fresh list of page-turning novels that will be enough to scare anyone out of seeking summer love.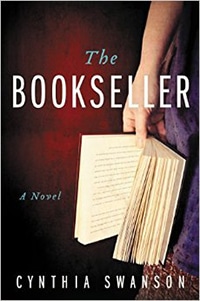 The Bookseller
, by Cynthia Swanson
This alternate-universe novel will intrigue anyone who likes to ponder what might have been. In 1960s Denver, Kitty Miller enjoys her quiet single life, co-owning a bookstore with a friend and living her life just as she pleases. Then she begins having startlingly vivid dreams of an alternate life — where she's known as Katharyn, married to a kind man named Lars, with charming children, good friends, and an elegant home. At first, Kitty writes the dreams off to an overactive imagination and enjoys the nightly visits to her fictional domestic life. But as the dreams become more real, and their lure more irresistible, Kitty wonders about what she has given up in order to have her solitary life. As the line between worlds begins to blur, Kitty must decide who she really is… and what she's willing to sacrifice for true happiness.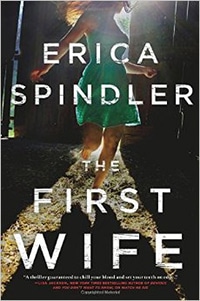 The First Wife
, by Erica Spindler
As a little girl, Bailey Browne daydreamed about a knight in shining armor rescuing her and her mother… and as she grew up, the dream became a handsome stranger who swept her off her feet, taking her far away from her dull routine. Much to her surprise, the dream comes true when she meets Logan Abbott, ten years older and from a wealthy background. They fall in love and marry soon after, but when Bailey moves to Logan's rural Louisiana horse farm, the fairy tale starts to fall apart. She learns about Logan's tragic family secrets — including the strange disappearance of his first wife, True, and other local women who have gone missing. When another woman vanishes, and all signs point to Logan's involvement, Bailey wonders how well she really knows her mysterious husband.
The Girl on the Train
, by Paula Hawkins
This bestseller was hyped as "the next Gone Girl" when it came out. The "girl on the train" is Rachel, who commutes back and forth to London by train every day, and entertains herself on the long ride by watching the couple who live in one particular house. She's nicknamed them Jason and Jess, and even invented little background stories about them based on her brief daily glimpses of their lives. By contrast, Rachel lives in a rented room, spiraling into alcoholism after the collapse of her marriage to Tom — who just so happens to live a few doors down from Jason and Jess. One day, Rachel sees something shocking: "Jess" kissing a man who is most definitely not "Jason." When "Jess" goes missing soon afterward, Rachel begins her own amateur sleuthing, but her new obsession — and her frequent alcoholic blackouts — lead her into danger. Can Rachel solve the mystery… and can we trust Rachel? See our full review.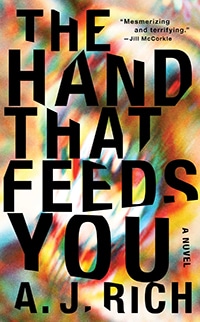 The Hand That Feeds You
, by A.J. Rich
Authors Amy Hempel and Jill Ciment co-wrote this marital thriller that will also appeal to Gone Girl fans. Morgan Prager, 30 years old and newly engaged to a passionate but secretive man, is finishing her thesis on victim psychology for a criminal justice degree. One day, she comes home from school to find her fiance mauled to death, and her dogs — rescued pit bulls — covered in blood. But when Morgan tries to contact her fiance's parents to break the news, she discovers that everything he told her was a lie. Worse, he has several other fiancees… and worst of all, those women are systematically being murdered, one by one. For Morgan to survive, she must find out who her fiance really was, and why someone is killing all the women close to him. (For more like this, see our 6 Summer Thrillers to Give You Chills list.)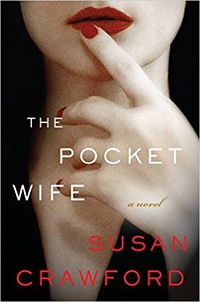 The Pocket Wife
, by Susan Crawford
You'd think it would be hard to forget whether you murdered your own friend, but that's the premise of this psychological thriller. Dana Catrell is horrified when her neighbor Celia is brutally killed — and Dana was the last person to see her alive. But her bipolar disorder leaves gaping holes in her memory, and Dana can't recall anything about the afternoon of Celia's death. With Dana's husband acting strangely and a nosy detective asking too many questions, Dana is on the edge of sanity as she tries to put together the pieces and figure out what happened that day. Is she a killer… or the next victim?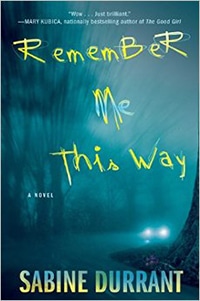 Remember Me This Way
, by Sabine Durrant
A year after her husband Zach's death, Lizzie visits the spot of her husband's fatal accident, only to find that someone else has already laid flowers there… along with a note addressed to her husband. When some personal items go missing from their house, Lizzie becomes convinced that Zach has somehow faked his own death and is stalking her. Unsurprisingly, nobody takes her theory too seriously, so Lizzie starts doing her own investigating — and learns that there was a whole lot she didn't know about her husband's life. But can she trust her own grief-hazed memories of the days leading up to Zach's supposed death?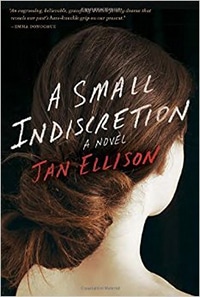 A Small Indiscretion
, by Jan Ellison
This one is more of a family drama than a sociopathic-evil-spouse-hunting-you-down thriller. At age 19, Annie Black spends a fateful winter in London learning life lessons and getting mixed up with the wrong sorts of men. At age 39, she's a happily married mother living in California… until a mysterious photograph arrives in her mailbox, jolting her back to a passionate and unhappy love affair of decades past. After an impulsive trip to London endangers her marriage, Annie must face the consequences of her long-ago actions and decide where her heart truly belongs.
Want more like this? See our original Spouses with Secrets reading list.

Latest posts by Stephanie Perry
(see all)