Trapped…
Author:  John Vaillant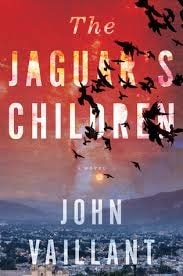 Héctor is in big trouble.  The young indio – a Zapotec from the Mexican state of Oaxaca – is trapped in the empty tank of a large water truck somewhere in the desolate expanse along the Sonora-Arizona border.  He and his friend César, along with a handful of other passengers, paid the coyotes extra for the luxury of wheeled transport into the US and were carefully welded inside the tank, improving their chances of sneaking across the border undetected.  Unfortunately, the truck has broken down and the coyotes have fled, leaving their customers helplessly entombed.  What's more, César has become critically ill.  In his much awaited first novel, The Jaguar's Children, award-winning journalist and non-fiction writer John Vaillant has created a thoroughly engaging and gripping story, in which he reveals Héctor and César's fate.
While the trapped victims struggle for survival, cursing their useless cellphones, Héctor tells how he arrived in such a predicament.  We learn of his youth in rural Oaxaca, the rich cultural heritage of his Zapotec ancestors and his struggle to survive in ever more challenging times.  As he comments on how the modern world has transformed so much of Mexican life, Héctor also divulges César's closely guarded secret, which has put them both in much danger.  In Héctor, Vaillant has created a memorable character who displays both passion and bravery, despite the horror of his immediate surroundings.
As he's demonstrated in his previous non-fiction works – The Golden Spruce and The Tiger – Vaillant is a gifted storyteller.  Basing much of the novel's background on a year he spent living with his family in Oaxaca, he features an abundance of cultural details that enrich the story and add to the mystery of Héctor's predicament.   In addition, I found his use of Héctor's increasingly desperate cellphone recordings as the only source of narrative to be a very effective device, adding more suspense and drama to the story.
A deft combination of ethnography, mythology and biology, brought to life with ample servings of horror, magic and suspense, The Jaguar's Children is a fascinating and well told story that kept me riveted.  Vaillant's passionate portrayal of an honorable man struggling for his life in lonely desperation is both memorable and moving.  Highly recommended.
— D. Driftless
[AMAZONPRODUCTS asin="0544315499″]