Here are the books you'll get!
Our fall photo/cozy mystery book giveaway wouldn't be possible without a nice package of books, now would it?  One of the very best perks of being a Readers Lane contributor is that nice people sometimes send us free books, and we want to pass that perk on to you.  These four books were all provided by super-publicist Maryglenn McCombs, along with publishers Poisoned Pen Press and Midnight Ink.  We chose these books in particular because, well, we like them.  We think they're authors and titles that you might like as well, and might want to add to your repertoire of cozy mystery series.  So with no further ado, and in no particular order, here are the books we will be giving to one lucky entrant in the Fall Photo Contest.
1) The Llama of Death.  Or as I like to call it – LLAMA OF DEATH, because I love the title so very, very much.  Written by Betty Webb, LLAMA OF DEATH, is the third book in the Gunn Zoo Mystery series.  Don't worry – you won't be lost and the earlier books won't be spoiled by trying this one out first.  In this installment, our heroine Teddy Bentley (zookeeper and house boat dweller) is taking a Gunn Zoo llama to the renaissance faire.  I told you it was awesome.  Of course someone meets an untimely death and Teddy is part of the investigation.
We didn't choose this book for its hard hitting, dark and crime filled mystery.  We all know that isn't the prime function of the cozy mystery.  We chose it because it's really, really fun.  Teddy is a decent heroine, but it's the setting and the sly wit of Webb that make the book more enjoyable than many of its genre compatriots.  Webb has a good time with the zoo aspect, filling her book with fun zookeeper details, and her tiny seaside town is quite clever.  The single bad thing about including this book in the contest giveaway bundle is that I'm losing my copy.  You can read our full review here.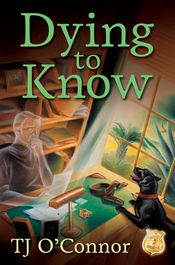 2) Dying to Know by T.J O'Connor.  Nobody like ghosts and ghouls and horror more than me, and we get at least one of those in here.  Dying to Know features a ghost hero and is the author's debut novel (and, as such, the first in the series).  Oliver Tucker used to be a police detective.  Now, through a series of most unfortunate events, he's a dead detective.  For some reason, though, he hangs around after that seemingly terminal event and goes about helping his wife and partner solve his murder.
One of the things I like best about this book is the ghost world created by O'Connor.  It has rules and mysteries and complexities that leave a lot of room for exploration in future installments.  The characters and mystery are solid and Tucker (or Tuck, as he is called) makes a fine, albeit dead, hero.  I'm looking forward to the next novel in the Gumshoe Ghost series.  You can read our full review here.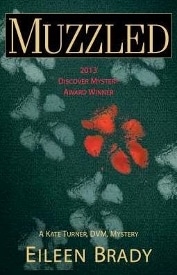 3) Muzzled by Eileen Brady.  Another debut novel, and another good one at that (it's so fun to come in on the ground floor of not only a new series but a new author!).  Muzzled features Kate Turner.  Kate is a veterinarian in a small town in New York state.  She's filling in for the regular vet who's taken a sabbatical to travel the world.  She's just getting her feet under her in this established practice where she makes house calls and sees every type of animal imaginable when she gets tangled in a murder investigation.
I really like this main character a lot.  Though I'm not usually big on animal cozies, this one is special.  Kate sees so many interesting things in her daily rounds that it's hard to figure out where she's going to keep her expanding knowledge of species based medicine.  Of course the people are quirkier than their pets and that's part of the fun as well.  Hopefully this small town animal doc will have many more outings to come.  You can read our full review here.
4) Leave Tomorrow Behind by Judy Clemens.  Last but certainly not least we have a veteran author with at least two series going.  This book is part of the Stella Crowne Mysteries, with a feisty, tomboy-ish protagonist who runs a farm and rides a motorcycle.  Leave Tomorrow Behind is actually the sixth Stella Crowne book, which seems like a poor choice for inclusion in this book bundle.  But I never felt lost here, despite not having read the previous installments.  Clemens knows what she's doing as far as keeping her books serial while keeping each interesting and complete in its own.
In this outing Stella is headed to the county fair, with a young friend who she sponsored and is going to be showing his first calf.  Of course things don't go smoothly, and Stella ends up in the middle of some hot water.  It doesn't help that she has no interest in staying out of hot water, or being gracious, or planning her upcoming wedding.  She's not at all a frilly girl.  But she is very likable, as is the cast of peripheral characters Clemens creates to counter Stella's gruffness.  A very solid outing for Clemens and a good introduction to a series you'll feel free to go back and delve into.  You can read our full review here.
So there you have it!
Our cozy mystery giveaway book bundle.  Four books of cozy mystery goodness perfect for curling up by the fire, or with a cup of tea, or any of those things we look forward to as the weather turns chilly.  So post your book-related fall themed photo to our Facebook page or send it to us by email at sue@readerslane.com to win a chance to have your photo featured in a Readers Lane post (with your bio and a link to your website) and an entry into this fabulous book giveaway. See the contest rules.
Let the contest begin!

Latest posts by Sue Millinocket
(see all)