The countdown to the August 21, 2017, eclipse is on! And what better way to prepare than reading a stack of eclipse books? Whether you're lucky enough to be in the path of totality on the big day, or you're planning to watch the eclipse via livestream, we have some fascinating eclipse books if you want to learn more about the science and history of eclipses. And if you haven't made your eclipse plans yet, here's some handy info to help you decide: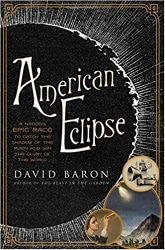 American Eclipse

Author: David Barron
Journalist and solar eclipse fanatic David Baron tells the story of an earlier eclipse that had a profound effect on the development of science in America. It was July 29, 1878, and totality was set to race diagonally across the width of America, in a narrow strip from Louisiana to the state of Washington, attracting scientists and amateurs from all over the nation. Back then, eclipses were a rare chance to obtain data about the universe — and American astronomers wanted to prove they were the equals of their European counterparts. It all added up to a great race to the open skies of the west for a once-in-a-lifetime scientific opportunity. Read Dave's full review.
Zapped: From Infrared to X-rays, the Curious History of Invisible Light

Author: Bob Berman
Have you ever experienced a total eclipse? If so, says Bob Berman, you'll never forget it. There's a reason that eclipses have evoked wonder and terror for all of human history: it's a profoundly eerie experience. Animals fall silent or go to sleep, shimmering dark lines sweep the ground, and the temperature drops rapidly as the sun's invisible rays are blocked. Zapped explores the wonderful and mysterious world of invisible light, including X-rays, ultraviolet, microwaves, radio waves and more. Read an excerpt from the book.
Solar Eclipse 2017: The Complete Kids' Guide and Activity Book for the Great American Solar Eclipse
So you plan to pack up the family and head out on a road trip to view the eclipse? Well… good luck with that, it's going to be you and several million of your best science-loving friends. You'll definitely need some car-friendly activities to keep everyone occupied, so bring this activity book along with you. It has 50 pages of scientific facts, games, and educational activities that will make the time fly while you're waiting for totality.
You might also like:

Stephanie P. is a writer, editor, and blogger. Her secret shame is dystopian YA fiction. You can find her wherever the books and food are.

Latest posts by Stephanie Perry (see all)